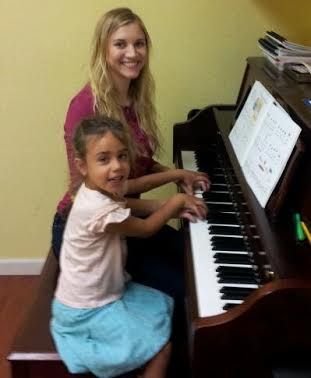 Testimonials & Recommendations
"Emma, Thanks for being such a wonderful teacher to the kids! They love you!
You fill the house with so much happiness and beautiful music :)" 
- from Holli and family.
---
"Emma Joleen is an excellent piano teacher. My sons have made incredible progress since they have started 6 months ago. Emma's expertise, kindness, organization and great communication have taught my boys great love for the piano and discipline that carries over in other aspects of their lives. I am so proud of their growth and maturity as a result of Emma's great teaching skills."
 Evamarie
---
"Emma is a wonderful singer and fantastic piano teacher.
She always explains how to play each song step by step and is always supportive.
I appreciate her hard work in teaching me."
Sally-Anne.
---

We love our lessons with Emma. She instantly knew how to communicate with, and motivate, my son and daughter.
They have both made so much progress, and they have learned how to take responsibility for their own practice and preparation. The entire family has witnessed their growth through recital performances.
Most importantly, my kids have fun with Emma, and they want to continue with music! - Jolynn
 
---

"Emma instills a sense of wonder and excitement when it comes to learning music.
She has helped to develop confidence in our son
who is now able to practice on his own at the age of 5.
He walks out of his lesson smiling and saying, "As soon as I get home I'm going to the piano to practice the new song Ms Emma just taught me!" What can I say, he loves learning from Emma and is already composing his own songs!" Michele.
 
---

"Emma Joleen has been teaching my son piano for multiple years now.  
He is always so excited to go to class and comes out even happier.  
I'm so pleased to see how quickly he is learning and
more importantly the joy he has found in his music.  
She is a truly excellent teacher!"
Kelly (son, Max, age 4)
 
---

"Ms. Emma has been my daughter's (6 yrs old) piano and voice teacher for the past year.
Through her teaching, my daughter has gained confidence in herself and continues to excel in music.  
For a child who gets bored easily, Ms. Emma has proven to have the skills and creativity to keep her interested."
Christine, (daughter Zia age 6).
 
---

"I'd like to express that I think you're great and so does Chloe...
she tells her friends about you &
she is very proud of the work she does with you!
We both think you're great!!
Ari (daughter, Chloe learns piano with Ms Emma)
 
---
Emma, Thanks so much of your commitment to your students and in particular our daughter, Terme. Your teaching techniques combined with appropriate level and type of encouragement has resulted in a very motivated piano player who has developed a passion for piano and is continuously demonstrating progress.  She loves you and so do we. We are forever thankful of your hard work.
Posted by: Marty, CA.
--------------------------------------------------------------------------------------------------------------------------------------------------------------------------------------------------------------------------------------
Emma is an excellent teacher, I look forward to class each week.  I have learnt more with Emma than I had with many months trying to teach myself. Emma makes the lessons fun and enjoyable in a friendly atmosphere. Emma teaches a wide range of repertoire from Beethoven to Bruno Mars, anything from Classical to Jazz, pop, rag and blues. Emma plays the songs and lets you choose what you'd like to learn. It's awesome! She makes it feel so easy to learn!
 Posted by: Christopher, CA.
_________________________________________________________________________________________________________________________________
Hi, my name is Katherine, I'm 14 years old and I learn with Ms Emma in Westlake Village. I love playing the piano, especially the popular repertoire that Ms Emma teaches me. Before I started learning with Ms Emma it would take me months and months to learn a new song, but now, I'm learning new songs within a couple of weeks, sometimes even just a week. It's so much fun! 
Emma Joleen is a great teacher with a great technique that guides your voice in the right direction, allowing you to experience optimal vocal quality and sing with an extended range in a much healthier and expressive singing voice. Singing in tune will become effortless as you learn what it means to become a vocal athlete. Start learning how to sing today from the woman who retaught herself how to speak and sing after losing her voice and being mute for an entire year.
"The Human Voice is really the foundation of all music;
and whatever the development of the musical art,
however bold the composer's combinations,
however brilliant the virtuoso's execution,
in the end, they must always return to the standard set
by Vocal music" - Richard Wagner
After being unable to sing and speak for a year, Emma took it upon herself to research and develop a fresh, new approach to singing that could be applied to both, the singing, and the speaking voice. It is all about training your body as an instrument for vocal production. Emma began her vocal coaching career with the sole promise to pass on the techniques that she learned from the great masters in Australia, Europe, the United Kingdom and the United States of America. As a vocal pedagogue and teaching artist, Emma teaches singing from the perspective of playing sports such as cricket, cross-country skiing, rowing and/or marathons. This is because these sports all require endurance as a major element in achieving peak performance.
 
"Poetry is music written for the human voice" - Maya Angelou